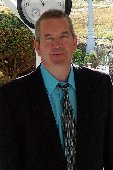 Tracy Lunceford
---
Pastor/Music Director
Tracy was born and raised in Baltimore, MD, and settled in Fredericksburg after marrying his wife Natalie 'Paige' Kelly in 1978. Tracy and Natalie had each accepted Jesus as Savior at age 13 and were each baptized into the faith.
Tracy Lunceford was installed as our interim pastor on November 23, 2014. ON June 28, 2015 he was voted in as the permanent pastor. Tracy is a licensed and ordained minister who had been serving as Music Minister at First Christian since 2011.
Tracy has diligently studied the Word for more than 35 yrs. and has served as associate pastor, youth pastor, and music minister in previous churches.
He has filled the pulpit in other churches, including the Protestant Naval Chapel on base in Dahlgren VA.
Tracy looks forward to serving the Lord, and shepherding the flock, at First Christian Church! He will continue to have a Thursday morning Bible study (10:30am), and will bring the message, that God has put on his heart, each Sunday morning at the 11am Worship Service. He also continues to provide musical worship to our congregation as well!
Beginning as a church organist at age 13, Tracy comes with over 35 years of music experience, serving as choir director, pianist, organist and soloist at several churches. Tracy is accomplished on the organ, piano and played trombone in a concert band in his school Before coming to FCC, he had been contracted for 15 years by the Defense Department as the Protestant Choral Director and Pianist at the Dahlgren Naval base chapel. Prior to the base chapel, Tracy served as music leader, and after his ordination, as an associate pastor at Chancellor Christian Church. Tracy came to us to serve as Music Director in May of 2011.
Tracy is employed full-time by Jack & Jill Ice Cream as a sales merchandiser.
He and Natalie were foster parents and served on the board of Bethany Christian Services. They also parented many children as therapeutic foster parents for United Methodist Family Services. Over a 15-year period, they parented more than 30 children for periods ranging from 24 hours to 2-1/2 years.
They have four grown children: Amanda (husband Jaime), Zach (wife Candace), Gabriel and Emily. Amanda and Jaime have given them 6 grandchildren.